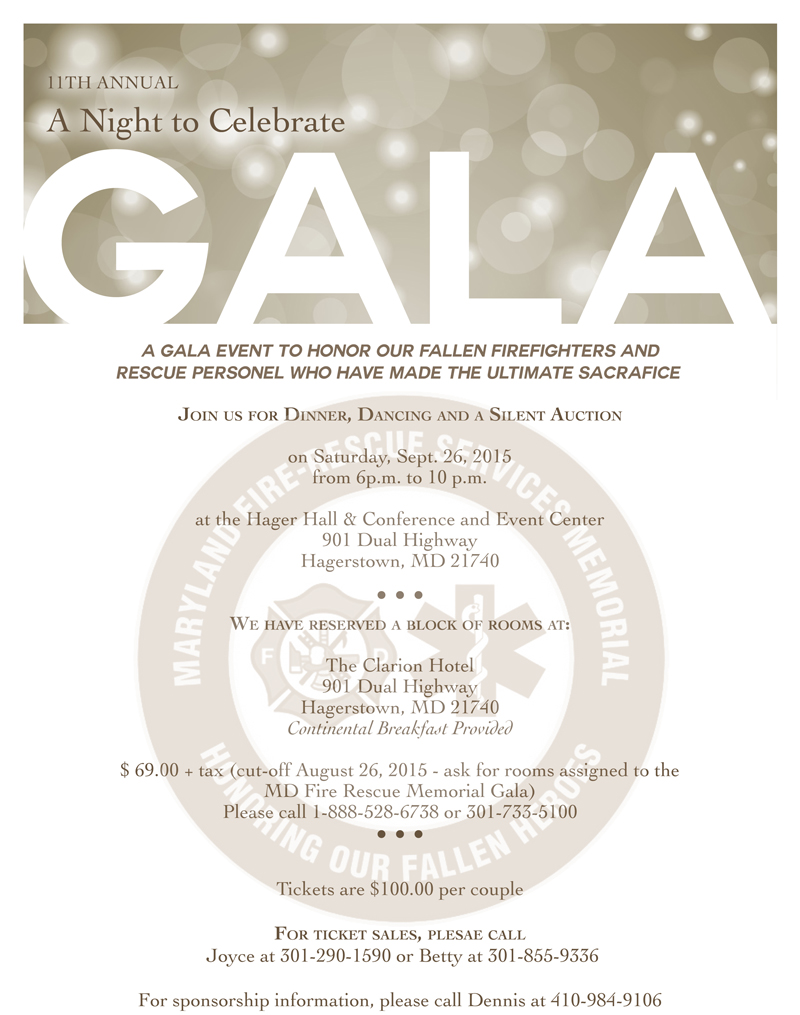 Maryland Fire-Rescue Services Memorial Foundation 2015 "ON LINE" Silent Auction Fundraiser

For our friends who cannot attend the Gala but wish to support the Memorial fundraiser GREAT NEWS !!

New this year:
"ON-LINE" Silent Auction ON-LINE bidding starts at midnight on Friday September 18 ON-LINE bidding ends at midnight on Friday September 25th

To register and bid ON-LINE go to:
http://www.biddingOwl.com/MDFireMemorial

The highest ON-LINE bid for each item at midnight on Sept 25th
will be the "starting bid" for each item when bidding resumes Saturday September 26th during the Gala "LIVE"

The ON-LINE highest bidder for each item will immediately be contacted by phone if someone at the Gala bids higher and will have the option to stop bidding or keep bidding by phone

Here is a partial list of 2015 Auction items

Ravens and other sports memorabilia from Craven Ravens
Teresa Crisman - 6 framed pictures
Broadneck Grill-Cape St Clair Road, Annapolis, MD $25.00 Gift Card
WaterMark Tours-Annapolis MD,. 2 tickets -- 40 minute Annapolis Harbor and US Naval Academy Cruise aboard the Harbor Queen

National Fallen Fighters- Fall 2015 NFFF Hospitality Tent and (2) tickets to the NASCAR Sprint Cup Race on Sunday, October 4, 2015.

Eggcellence (A Breakfast Bruchery) -- Annapolis MD 2 $25.00 Gift Cards
Medieval Times - 2 Tickets
4 Challenge Coins from Maryland Fire Chiefs
2 Tickets for the Navy Football game (game date 10.31.15) USF-Bulls
Rock Fishing Trip on the Bay
Bushel of Crabs from J and T Seafood
Stained Glass Creations from Terraza Stained Glass
Retired Longaberger Basket
Fishing Trip or Sightseeing Trip on the Bay
$100.00 gift certificate Flowers and Fancies

and more to come.........THANK YOU!