DONATIONS

may be sent to the...

Maryland Fire-Rescue Services
Memorial Foundation, Inc.,
Post Office Box 742
Annapolis, MD 21404

or

The Foundation is registered with
the Secretary of State of Maryland
All Donations are Tax-Deductible!



FUNDING
SPONSORSHIP LEVELS

Gold Helmet $50,000
Silver Helmet $25,000
Bronze Helmet $10,000
Pewter Helmet $5,000
Black Helmet $2,500
Yellow Helmet $1,000
Red Helmet $500
Patron $100




See current sponsors below.

BUY A BRICK

Also see order form below
The Maryland Fire Rescue Services Memorial Foundation, Inc. Is A Tax Exempt, Non-profit, 501 C-3 Organization
---
Current Sponsors
GOLD

Maryland Fire Service Personnel Qualifications Board
SILVER

Harford County Volunteer Fire and EMS Association
Maryland Fire Service Personnel Qualifications Board
Maryland State Firemen's Association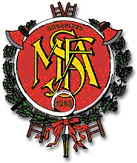 Fish Tales Ocean City, MD
BRONZE

Maryland Fire Chief's Association
Washington County Volunteer Fire & Rescue Association
R. Adams Cowley Shock Trauma Center - Board of Visitors
Original World Famous Green Turtle - Ocean City, Md.
PEWTER

Baltimore City Firefighter's Local 734
Baltimore County VolunteerFiremen's Association
Carroll County Volunteer Firemen's Association
Delaplaine Foundation, Inc.
Original World Famous Green Turtle Ocean City, MD
Kent Island Elks Lodge
Orchard Beach Volunteer Fire Department
Orchard Beach VFD Ladies Auxiliary
Road Sprinkler Fitters
Shock Trauma Board of Visitors
BLACK

Anne Arundel Co Volunteer Firefighter's Assoc. Ladies Auxiliary
Anne Arundel Fire Safety Foundation
Bay District VFD
Bedford Road VFD
Bowman's Addition VFD
DelMarVa Power Company
Easton VFD
Elkridge VFD
Friends of James H. Stavely Survivors
Gamber & Community Fire Co.
Helix Health
Herald Harbor VFD
Johns Hopkins University
Kent Island American Legion
LaPlata VFD
Maryland One Chapter RED KNIGHTS
Mount Airy VFC
Ocean City VFC
Omni Computer Services, Inc.
Reese & Community VFC
Rescue Fire Company
Rosedale VFC
Sandy Spring VFC
St. Michael's FD
Sykesville – Freedom District FD
Talbot County Volunteer Firemen's Association
Waldorf VFD
Brick Order Form